Low-carb Harissa Chicken with Lime Sauce
Prep time:
Chillding time:
Cooking time:
Serves: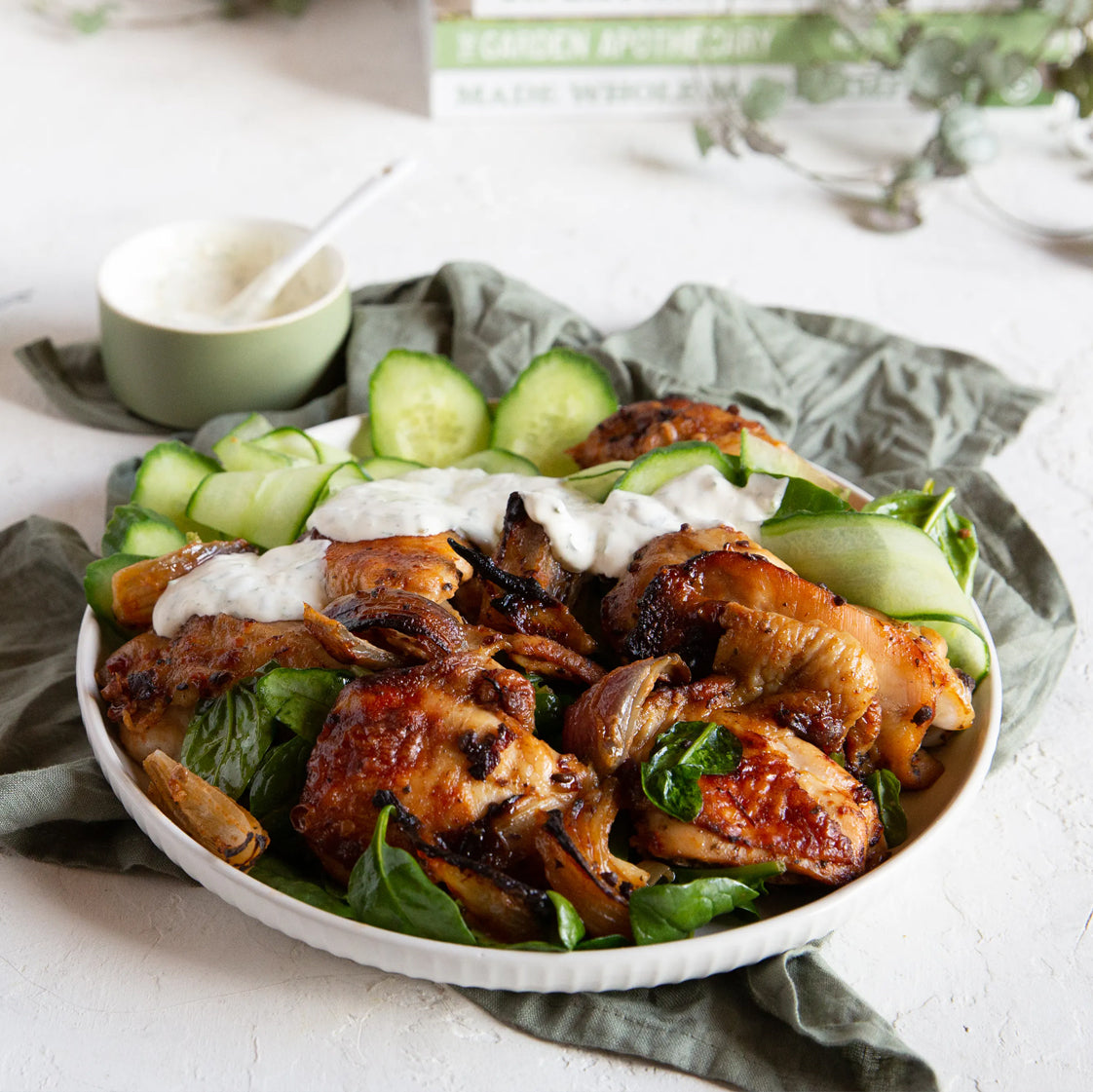 Ingredients
Chicken
¼ cup olive oil
2 tbsp harissa paste
5 oz. (5⁄6 cup) red onions, peeled and quartered
2 lbs chicken thighs (bone-in with skin)
salt and pepper, to taste
Lime sauce
¾ cup sour cream
1 lime, zest and juice
¼ cup (1⁄8 oz.) fresh cilantro, chopped finely
salt
Serving
4½ oz. (41⁄3 cups) baby spinach
5 oz. cucumber, diced or sliced into ribbons
Instructions
Chicken marinade
Combine the harissa paste and the olive oil and spread it over the chicken thighs, coating them well. Place them in a Ziploc bag together with the red onion and seal. Marinate in the fridge for at least 2 hours, or overnight.
Preheat your oven to 400° F (200° C), and line a shallow baking tray.
Lay the chicken thighs on the tray, skin side up, and arrange the onion wedges around them.
Season to taste and bake for 40 minutes, or until the internal temperature of the chicken reaches 165° F (72° C) and chicken is crispy and golden.
Lime sauce
While the chicken bakes, combine all of the sauce ingredients in a bowl and whisk to combine. Store the sauce in the fridge until use.
Serving
Remove the chicken from the oven and toss in a bowl with the baby spinach until the spinach wilts from the residual heat. You can also drizzle some of the pan juices over if you like.
Peel the cucumber with a vegetable peeler into ribbons. Serve with the chicken and lime sauce.