Lamb & Pistachio Kofta
Prep time: 30 mins
Chillding time: 1-2 hours
Cooking time: 8-10 mins
Serves: 4-6 people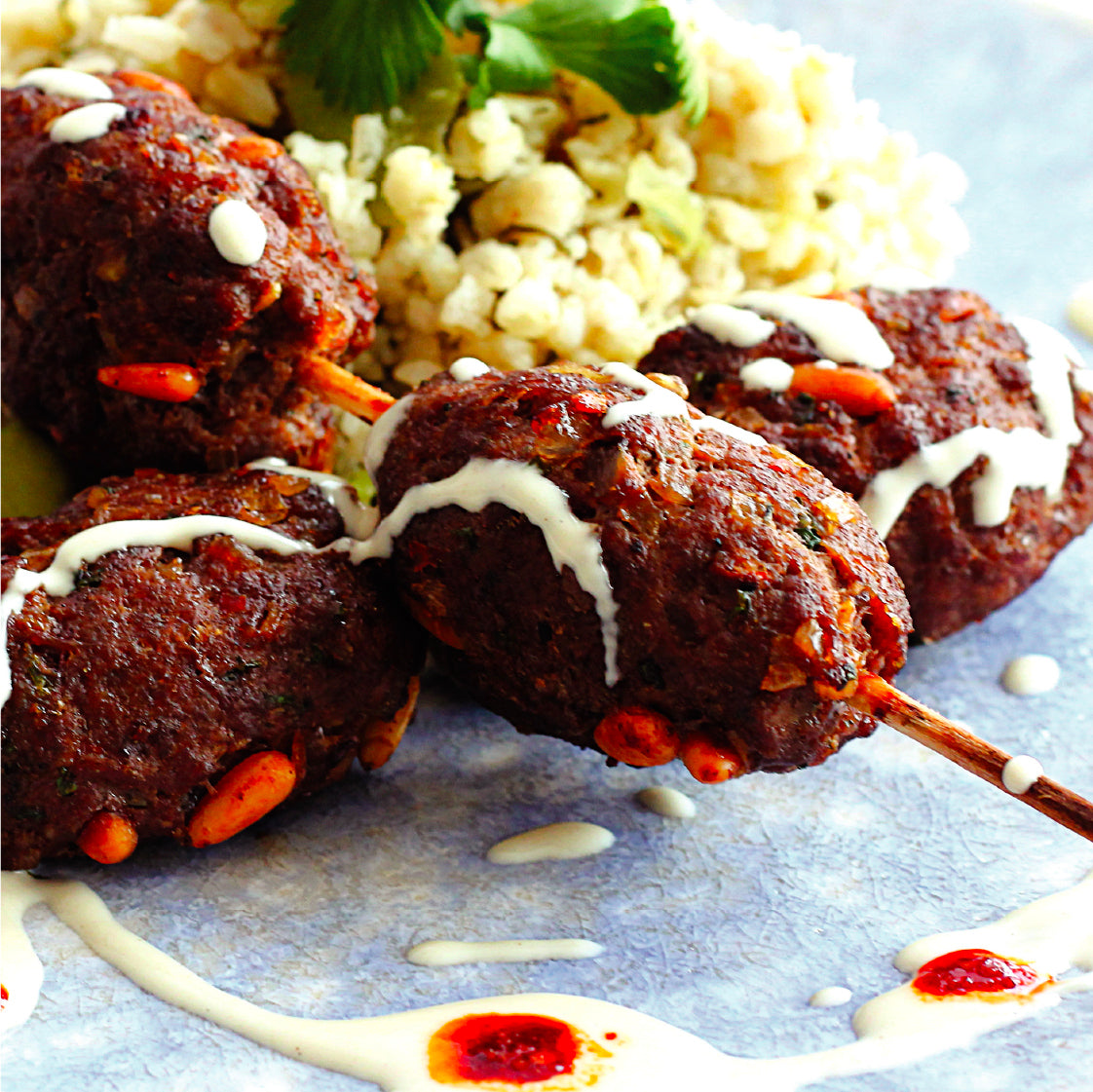 Ingredient
500g lamb,
minced2 echalion shallots, finely chopped
1 large handful, coriander, chopped
1-2 tsp. Fiery Harissa (Providence Deli
1 tbsp. date syrup or honey1 tbsp. groundnut or sunflower oil
40g pine nuts, toastedSea salt
Black pepper
Cinnamon
Garlic granules
8 wooden skewers
Instructions
Soak the wooden skewers in water for 30 minutes, whilst making the koftas.
To make the koftas, add the minced lamb to a large mixing bowl.
Toast the pine nuts in a dry frying pan over a gentle heat. In a non-stick saucepan sauté the shallots until translucent and soft, then season well with sea salt, black pepper, garlic granules and cinnamon.Add the fiery harissa, date syrup and chopped coriander, continue over a gentle heat for 1 minute until all the flavours come together, then transfer to a bowl to cool.
Using kitchen gloves (non-latex gloves) start to work the onion mixture into the lamb by hand, or if you prefer you can use a spoon. Then add the toasted pine nuts.
Shape the koftas into 2 balls per wooden skewer, then slide themonto the skewer and shape into an oval, keeping them all the same size and shape. Place the koftas onto a baking sheet, cover and refrigerate at 1-2 hours, or up to 12 hours.
Preheat your oven grill and lightly oil the ends of the sticks to prevent burning. Cook the skewers on the preheated grill, for 8-10 minutes. Turn occasionally, until the lamb has cooked to your desired degree of doneness, 8 minutes if you prefer pink inside